After more than 20 years of putting up with the mud, muck and dust from the transport yard at Wills Transfer in Perth, Knudsen Engineering, designer of the renowned Pinger portable shallow water Chirp Sub-Bottom Profiler, can finally leave work in the same clean vehicles they arrived in!
No longer will the pass-by of Wills Transport drivers leave a haze of dust on the engineers who park adjacent to the transport yard on Industrial Ave. in Perth now that the final lift of asphalt has been laid.
Tackaberry Construction did an amazing job during the 2-week project. Working in 30 degree plus temperatures from dawn-to-dusk the graders, dump trucks and paving crew turned our pothole unlevelled yard into an ebony covered coat of sleek asphalt.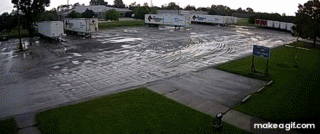 So, what did Wills Transfer in Perth do to celebrate the end of such a dusty era? We invited our neighbors at Knudsen Engineering to play frisbee, join us in a spirited game of ball hockey, enjoy a delicious BBQ and then we held a ribbon cutting ceremony all on top of the sleek new asphalt.