Wills Transfer is using 12 pin chassis' to haul empty Weatherhaven containers from the Port in Montreal to Brockville. Forty containers per month for the next two years and these 12 pin chassis' will reduce our carbon footprint by 6.67 trips per month or 160 over the two year contract term. The 12 pin chassis allow 3 20′ containers to travel to a destination verses the typical 2 20′. Weatherhaven takes these empty containers and turns them into working shelters which look like something from the 1970′ TV show M*A*S*H.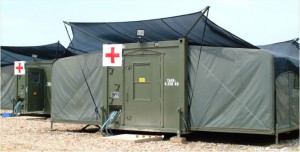 Please take 5 and watch the video about Weatherhaven, it really is quite fascinating to watch.
Sheltering Troops, Wherever They're Deployed
Weatherhaven' s line of portable shelters and camp systems facilitate comfort and operational effectiveness for militaries everywhere on Earth-from the Canadian Armed Forces to Special Forces, and any other international military.
Using a combination of fabric and expandable container technology, Weatherhaven' s portable shelters are built for exceptional performance and have been deployed on all seven continents, no matter how remote the location or harsh the climate.
Honestly, 12 pin chassis' are not that exciting and reducing our carbon foot print is the norm for any business now but what Weatherhaven does with empty containers is really the star of this post!